Happy Release Day to L.H Cosway and her new book KILLER QUEEN!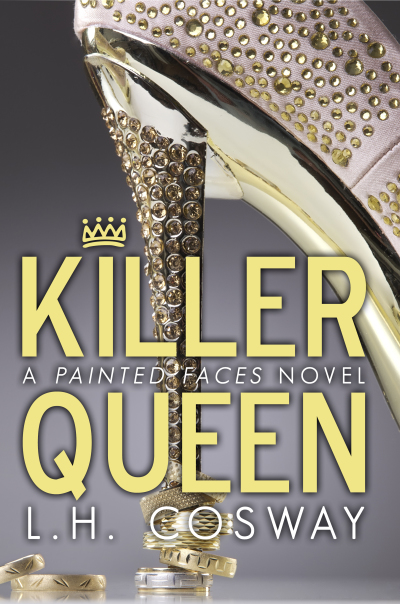 ♥BUY THE BOOK♥

Willkommen, Bienvenue, Welcome… Come inside The Glamour Patch club to see the star of our show, Miss Vivica Blue.
Do you want to read my diary you nosy little devils? Have a glass of champagne (you'll need it) and get comfortable because you're in for some crazy shenanigans brought to you straight from the horse's mouth. I can be whatever you want me to be: boy, girl, a little bit of both. If you have a problem with a man in a dress then best be off with you. If males in make-up give you the willies, then I'll say au revoir and don't let the door hit you on the way out. So, who are we left with? Ah, a fine collection of curious souls. I want to tell you a tale of love, because those are the most glorious kind. I want to tell you about real love, a love that transcends labels and gender stereotypes.
The moment I first laid eyes on my Freda I knew that we were kindred. Well okay, I also knew I wanted to get into her pants, but that's beside the point. My world was a grey place. I was at my lowest ebb. Then she came along and patches of colour began to spring forth. One day the daffodils were yellow and before I knew it, colour was everywhere, lighting up my life. Love is not about how we appear on the outside, it's about the soul contained within. Our story was not a conventional one, but it was ours, and that's what made it shine.
Killer Queen is a companion novel to L.H. Cosway's contemporary romance, Painted Faces. It contains scenes that take place before, during and after the original story. It can also be read as a standalone.

Kelsie's Review!
4 Stars!!
First I should say that Painted Faces was my number one pick for Best Book 2013. I loved it and I fell in love with LH Cosway's writing style and how she can develop her characters. So when I had the opportunity to read Killer Queen I jumped on it, despite the fact that I've become leery of companion novels because they tend to disappoint. There was just something about Viv/Nick, I just knew that he could tell the same FACTS of a situation and the story be completely different.
His mind is so colorful and to be a total cheeseball, VIVid. The way he sees the world, the way he feels, his highs and his lows....well, he's a human roller coaster and he takes us on one hell of a ride. Now, I may be the only person on this point (because I'm looney tunes), but did anyone else notice how different Viv/Nick saw Fred then Fred saw herself? I know this sounds crazy, but hear me out. Usually with companion novels or even with alternating POVs it's rare to get a primary character perspective change in terms of the personality. The way I read Fred in Painted Faces was very anxious, maybe slightly insecure, but more impatient with people, places, and things...nouns. LOL! Not in a annoyed way, but in a utilitarian way. Except when it came to feelings, then she was emotional and demonstrative. For Viv/Nick's POV it was like the total opposite. Fred came off (at least to me) as more insecure, maybe way more standoffish, and kinda cold, but still the hilarious and kind Fred we all know and love. Did anyone else notice this? Am I alone? Is this all in my head because I'm writing this late after a super long work day? WHOOO KNOOOOWS???!!! Ok, LH, probably does....
Anyways! What I really liked about it (in addition to above) was all the history and Viv/Nick time. This wasn't just a retelling, it was new material and thank the Freddie Mercury FOR THAT! We get to see somewhat how Viv/Nick tics. I'm not sure if we will ever see all the way to the bottom of that lake, but it got a little clearer. And I love him more for it. We also get to see beyond where Painted Faces ended which YAY!!!!
So why 4 stars? Well, y'all, I would have loved to have delved a little more into the Drag Queen world. I wanted to explore more of Viv/Nick's psyche. This is going to sound super odd, but I really wanted less romance and more of just getting to know Viv/Nick. We already know how the story ends so let's delve a little deeper into our Killer Queen.
That all being said, LH knocks another one out of the park. If you haven't done so already, you really need to start reading this author. Everything she writes is very unique with one of the freshest voices I've ever come across. I don't say this lightly, but she's an auto buy for me. I don't even need to read the blurb, it's just "oh, LH? CLICK!" Because I know what I'm getting -> quality. TRUST ME!
Happy Reading, Kelsie :D

L.H. Cosway has a BA in English Literature and Greek and Roman Civilisation, and an MA in Postcolonial Literature. She lives in Dublin city. Her inspiration to write comes from music. Her favourite things in life include writing stories, vintage clothing, dark cabaret music, food, musical comedy, and of course, books.


---
♥READ THE BOOK THAT STARTED IT ALL♥
Painted Faces